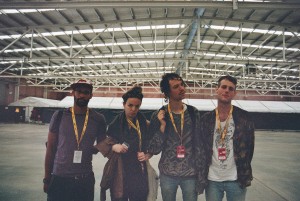 Today is day two of Groovin' the Moo. We are in some sunny California/Florida-like northern town/village of Australia called Townsville. It is pure summer weather, and I am tucked away in the quietest place there is at this boomy festival, our boiling hot rental van.
Day one was pretty dope. Somebody named Chloe threw a little stuffed unicorn onstage as a present to the band. There was ping-pong backstage, and Twister, which quickly spun into lighthearted Darwin Deez band activities. There was a massive bungee cord slingshot carnival ride on the edge of the festival lot. All four of us got on board and shot into the high heavens. The crowd looked so beautiful from those precarious heights.
We continue to get fancy single malt scotch on our rider. I requested it in Liverpool on a whim back in October, when Cole was in the band. Cole thought it was a pretty cool choice, so we started getting single malt every night. Then Miles joined and thought it was a totally silly selection, drinking this smoky sophisticated bottle of fireside liquor while preparing for a rock show. Now Michelle's in and when she saw the fancy scotch, she was like, "oh, hell yeah! who thought to ask for this?" So I'm cool again. But the big question is, who's right about the scotch?
I watched The Drums. They are from my neighborhood, as I understand it. I wonder which streets they live on? Strangely, I have incidentally crossed paths with them in London and in Australia, but I've never run into them back home. Such is life in weird touring band world.
On the drive back to the airport, we came up with some sort of game that I suppose could be called "Carb Pile-On." It was inspired by the fact that we were eating crackers wrapped in pita bread (a creative/bored use for last night's backstage food remnants). So the goal of Carb Pile-On is to think up preposterous carb centric recipes. For example: "spaghetti and mashed potatoes wrapped in a pita, placed inside of a taco shell, served on a bed of rice."