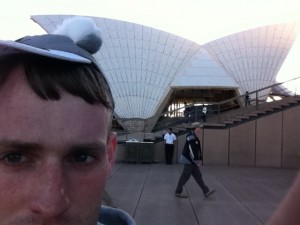 Sydney was a majestic sight from our airplane window. We had a perfect view of the living harbor, the geometry of the opera house, the stretch of the bridge, sparkling sunlight, boats leaving trails of white foam in the water. When I was very young, I had a primitive version of the computer game "Where in the World is Carmen Sandiego?" The graphics were almost indecipherable, but I can still remember a pixelated image of the Sydney Opera House that would display when you'd travel to that city. I feel that my Carmen Sandiego destiny has at last been fulfilled.
Our first night in town, Darwin DJ'd this place called The Gaelic Club. Inspiration struck, and we all went wearing our white hotel bathrobes. Darwin's getting better and better at DJing. The band's role during his sets is ridiculously easy. We just stand with him in the booth and groove, pump up the crowd, cross our arms, raise our hands. Some of the favorite centerpieces emerging during Darwin's DJ sets are: a mashup of NIN "Closer" and Notorious B.I.G.'s "Hypnotize", a mashup of Kriss Kross's "Jump" and House of Pain's "Jump Around", and Cher's "Do You Believe in Life after Love?", to name a few. Greg and I wonder if the Australian dance crowds are a bit baffled by Darwin's distinctly American sense of irony.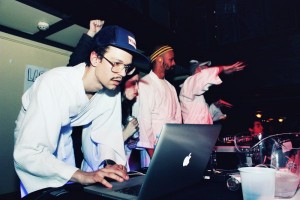 I bummed a cigarette from some club kids. They mistook my bird tattoo as a tattoo of the Southern Cross, which is a well-known constellation in this hemisphere, famously featured on the Australian flag. The club kids told me that the Southern Cross tattoo is quite popular among bogans (Australian rednecks), and is some sort of symbol of nationalism/xenophobia/ignorance. I was glad I had birds on my arm.
At Maitland GTM, Greg and Michele and I saw this wild sight during the Architecture in Helsinki set. Daredevils kept climbing up the support beams that were holding up the giant tent. Finally, a particularly brave/insane girl climbed all the way to the top. She must've been six or seven stories high. The band stopped mid-song and urged her to get back on the ground. The girl began her descent, but after climbing down only a meter or two, she gripped one of the crossbars between her legs and dangled precariously over the thousands of listeners. Simultaneously thrilling and terrifying.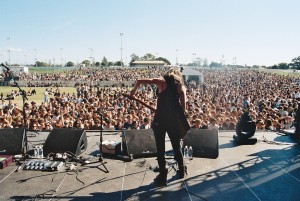 I decided to go on an adventure and stay behind at the festival while the rest of the band headed back to our hotel in Sydney. I made friends with this classic Australian jock, who painfully squeezed me within his bulging bicep as we had an "I love you, man" moment. I let some people pump my Reebok pumps. I saw an Australian hip-hop group named Bliss N Eso lead throngs of people in the "Aussie! Aussie! Aussie! OI! OI! OI!" chant. I rode home in the Unkle coach. That James Lavelle sure is an eccentric. He wears sunglasses all the time. Even at night. Even when it's just him and his bandmates.