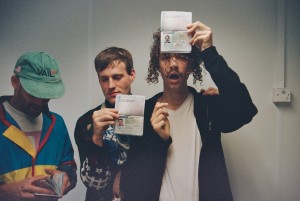 Glastonbury was kind of a bust. For weeks, it had been looming over our heads with all its "the big one" importance, and just as we feared, these expectations and pressures worked against us. The set was splattered with technical snafus. For one, Darwin's string broke during DNA. He switched guitars and went straight into the next song, Constellations, but, horrors, the guitar was not tuned to the correct notes! I was dismayed by the realization that I was the one who had mistuned the backup white guitar only minutes before. There were eerie déjà vu parallels to Bestival in 2010, which was also our last British festival of the season, a hyped show and a big crowd. At that Isle of Wight festival, during the first song, I had accidentally bashed into Darwin's guitar neck with my bass neck and majorly fucked up his tuning. And so, at Bestival and Glastonbury, the whole set I fretted that I had sabotaged Darwin's moment and made the show a drag for him. Each time, the band kept our heads up best we could and tried to keep positivity alive, which is all I suspect one can do.
Post-set, we donned our wellies and embarked through the unfathomably sticky mud to the Radiohead "secret" set. The masses of people and rainy drizzle spun around us like a misty dream. Piles of countless forsaken boots lay abandoned in the sludge. When we arrived, there were so many people there that I could only glimpse the upper stage lights. Even perched upon a garbage can, it was impossible to get a view of the band. Fragments of Thom Yorke's voice emerged and vanished beneath the pounding bass emitting from a nearby dance tent. And so, it became a metaphor of what that whole day was, for me. Something that was supposed to be momentous and important, but somehow was a bit of a disappointment. No sooner had Radiohead launched into their second or third song, "15 Step", than it was time for our Deez crew to hit the road.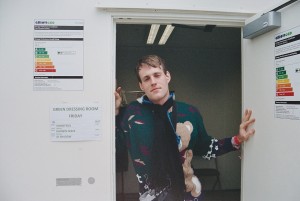 It was our last night in the noble silver Elephant Riders van, the tour vehicle that has driven us to so many beloved cities, concerts, and adventures. Everyone took turns DJing, trying to choose the perfect comedown song to complement that sentimental post-festival feeling. Greg really nailed the mood with a song I've never heard before, "Why Does Your Love Hurt so Much?" by Carly Simon. Miles chose another beauty with "Lady Daydream" by Twin Sister, another tour favorite of the last year. The vibe was strong that night for our group of six great friends.
It really was a classic Elephant Riders midnight drive. At Darwin's encouragement, we pulled off in some no-name England town and scavenged some takeaway Indian food from a restaurant that was closing for the night.
At 3 AM, we arrived at the familiar Travelodge near Stanton Airport. Something had gone wrong with our reservation, and after hitting up a few more last-resort hotels, we realized there was nowhere in the area for our band to sleep. Only one option remained. We spent our last Elephant Riders night crammed in the van, half-sleeping for a few fleeting hours. On top of the aroma of six smelly, sweaty boys in dirty clothes, our van reeked due to our muddy Glastonbury boots and expiring supply of apples, soymilk, and stale cereal. It was comical, humble, intimate, uncomfortable. It was perfect.