Our final show in Europe for this tour and for the indefinite future was in Austria, a country we have never played before. We had our first night off, upon which we embarked from our hotel to the historic section of the city. As darkness fell, we heard teenagers squealing in the park to our right, some kind of mini-party. We went and investigated this huddle of cigarette-smoking, vodka-bottle-passing strangers. To our surprise, several of these kids were big Darwin Deez fans. One of the girls scrambled to show me how Radar Detector was indeed the ringtone on her phone. We trekked on, past a store called "Mostly Mozart", past a garden where red roses were planted in the shape of a giant treble clef, until we made it to the Danube River, and to a much-talked-about joint called Flex Cafe. It was a beautifully scummy club, of concrete and steel, with a giant screen displaying blinding psychedelic imagery while DJs delivered relentless dance music. Darwin filled me in that it was mostly drum and bass. The room was packed with a frenzy of dancing club kids, kids wearing visors, white boys with dreadlocks, girls wearing glowstick bracelets. Not many of the people were dancing with each other. No circles of friends. Just individuals digging into the beats, in their own zones. It was something that I'd never quite seen before, as if the Detroit raves I'd heard about in the 90s had never died. Perhaps we were simply deep in a strain of European dance culture that doesn't exist in the states. The DJ was killing it. We loved it. We danced til 4 AM. I wasn't bored for a single minute.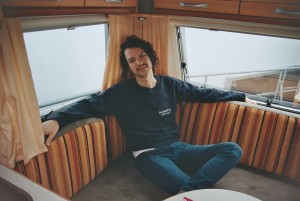 The Austria Festival set we played was tops. What a beautiful last hurrah. We tried out a new intro using the Star Trek theme. "Take your positions in the diamond formation. Hands behind your back. Look regal," Darwin instructed. "When you get to your instruments, keep looking regal." It was an outdoor stage, and we played after night had fallen. No rain or mud in sight. Our audience was positioned in three tiers up a hillside in front of us. It was quite a view, looking out at them. I didn't sleep that night.
Darwin calculated that we are in the midst of flying on 9 planes within 11 days. Insane! These flights are:
1. London to Austria
2. Austria to London
3. London to New York City
4. New York City to Rio De Janeiro
5. Rio De Janeiro to Sao Paolo
6. Sao Paolo to Porto Alegre
7. Porto Alegre to Rio de Janeiro
8. Rio de Janeiro to Miami
9. Miami to San Francisco
Today is my one day in NYC. I did some laundry. I put the rent check in my landlord's mailbox. I picked up a repaired amp from Main Drag Music. No rest for the wicked. Tonight, we're off to Brazil!