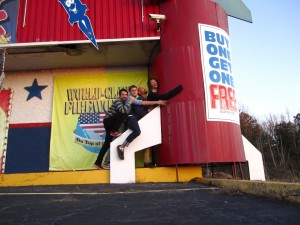 Club Down Under wasn't open yet, so we had some time to kill at Florida State University. I snuck into a science and technology building and changed into shorts, and Greg and I went running. We jutted into parking garages, forged a freestyle path around the track and onto the soccer field, passed by jocks and geeks and sexy coeds.
This was our first college show of tour. They treat you a lot nicer than the clubs, that's for sure. Natasha, in charge of hospitality, hooked us up with delicious Kombucha, Clif bars, and the good kind of hummus. She ordered pizza and garlic bread. There was a piano backstage, and even a half inflated dinosaur balloon. We rocked the campus hard. Now that Cole (DJ Hummus) is gone, I've taken over raps as MC Baba Ghannouj. I can't tell if I'm any good yet…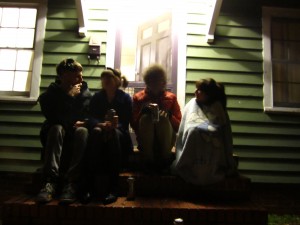 Afterwards, we partied at Natasha's. They had such a beautiful stoop that we had no choice but to formally declare a Front Porch Club. It was so friendly and comfortable and relaxed on that stoop. Darwin commented about how on tour, we're always rushing from one place to the next. Time to wake up. Time to drive. Time to get gas. Time to load in. Time to sound check. Time to eat. Time to play. Time to sell merch. Time to load out. But there on that Florida porch with a palm tree in the front yard, we had a brief and serene moment of obligationlessness. In the living room, we watched Tommy Wiseau's The House That Dripped Blood, tacking on a few clips from The Room for good measure. We danced around to Talking Heads' "Stop Making Sense", a beloved jam of mine. Greg snuck into the van for a hummus leftovers binge and got locked out of the house. Kristin, Natasha's roommate, removed an insanely overloaded litter box out of the spare bedroom (the cats' bedroom). We replaced the kitty turds with our sleeping bags and it became our bedroom. Goodnight.