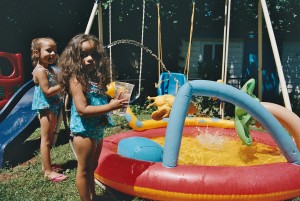 We are not abroad anymore. We're back in the states, where Darwin is not, nor has ever been, in heavy rotation on MTV or mainstream radio. So you know what that means. It's back to house crashing for us. We are in Washington DC this morning, where, last night, we crumpled on a cluster of basement couches in the house of Greg's old college friend. You would think that the band budget would be spread out evenly, and that accommodations would be more or less the same across the board, with the well attended shows in the UK subsidizing the less populated shows back home. But this is not the case. Last week in Brazil, we played for 800 people and everybody got their own hotel apartment and king-sized bed. In the states, we play for about 250 people a night and couch surf. I enjoy the ride.
The family we are staying with is slightly eccentric. There are multi-generations in this household. The grandma is a raw foods enthusiast. The grandpa hangs out in this room downstairs and jams blues solos on his electric guitar over instrumentals of songs like Green Onions. I can see him in there; his door is open a crack. The mom, Greg's friend, is the daughter of some famous CBGB's New York rock band. She talked for me for a good while last night about her path from insanity and drug addiction to equilibrium. The little daughters have left an abundance of arts and crafts all over the house, along with a toy apocalypse in the room next door. They are presently naked like pixies and frolicking about.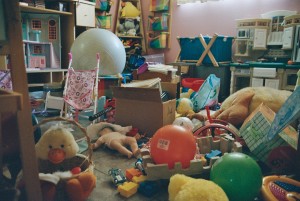 When Greg and Darwin picked me up at my apartment, they blurted, "did you hear!?" Hear what? "Cole's coming on this tour! Playing guitar! For Caged Animals!" What? Really?! When did you find that out? Who told you? "Not Cole," Darwin continued. "Stephen told me in an e-mail this morning." (Stephen's our manager)
Back in January and February when shit went down, it seemed appropriate to be discreet about this situation, but now that there's been some time and space in between, I feel there's no harm in telling you that there was some drama and tension when Cole's time with the band ended.
For these last four East Coast dates, we have our friend Isaac Gillespie along as videographer. As the band rolled off to Philadelphia, we briefed him that he absolutely had to capture the moment when Cole and Darwin first meet during load-in. Our very own made-for-reality-TV moment.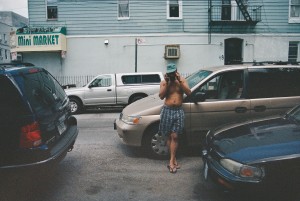 Michelle (back on bass for the final four) taught us a game where you go into the gas station and try to find the most compelling oddity item for the least amount of cash. Greg won that contest yesterday by buying this interesting version of Teriyaki Flavored Beef Jerky in the form of chewing-tobacco-esque shreds.
The first show in Philadelphia was a little lackluster, causing Darwin to tiredly declare backstage that this final leg of tour was entitled "Going through the Motions tour." "Oh great," Michelle quipped, "you guys get High Spirits tour, and the Last Supper, and I get stuck with Going through the Motions." But the kids in DC last night were a real special crowd. Excited, supportive, sincere, fun, good natured. I think it made Darwin feel a little better. I think everything's going to be okay.