So now we are in Perth, the most isolated city in the world. They have a statue of Bon Scott here, the first singer of AC/DC who died, choked on his own vomit. There are lots of cheap looking strip clubs and peep shows and adult shops and massage parlors. And the Indian Ocean, too.
Belowsky is here. He is an eccentric poet, and a great friend of mine. We met the same way that I met Darwin, on the antifolk scene at the Sidewalk Cafe. It sure was wild to have him introduce the band, literally halfway around the world from New York City, 12 hours in time difference. He wove some Darwin Deez references into a classic poem of his called "Guru."
The next night, Darwin DJ'd at a club called The Court. For some reason, they scheduled the set ultra early, from 7 to 8 PM. When I showed up, there were about three people in the otherwise empty room. A crowd trickled in, but it remained comically awkward, like a high school dance. Afterwards, some friendly fans scooped me up and walked me to Northbridge, a club-lined section of Perth that reminded me of the East Village. None of the clubs would let me in with my state ID. They demanded a passport. I protested that even the domestic flights let me on with my state ID, and then the door guy would point to a prominently posted sign that listed the strict screening rule, no ifs, ands, or buts. This being the case, our group decided to buy beers and gin and some sort of Orangina-esque mixer, also some honeycomb Tim Tams, and set up camp in this public park where there was a giant outdoor television screen showing the Eurovision broadcast (Eurovision is this popular and somewhat cheesy music performance competition between all the countries in Europe). My group apologized to me, assuming that usually I was doing glamorous rock 'n roll type things, and that this hangout was too humble or boring for my standards. I tried to explain to them that I felt this was a wonderful adventure, and that these types of moments are what touring is all about. We munched and drank while neon-vested police officers on bicycles prodded all the sleeping homeless aborigines nearby, telling them to scram. Eventually, we were the only ones left. We didn't notice. I guess we were being pretty reckless, because finally, the police officers approached us and issued tickets for drinking in public. One interesting thing was that they only ticketed me and the other boy, the three girls were left alone. Some sort of patriarchal behavioral artifact still being perpetuated? The officer told me that if I ever returned to Australia on another tour, I would be stopped at the airport, should I have any unpaid tickets under my name. Another Darwin Deez Australian tour is certainly far off in the distance. We're not going to come here again until the next album is released, and even in that case, we will only be able to come here if the album is enough of a success. So many question marks and hazy far-off events. But the passage of time sneaks up on you, so I paid the $50.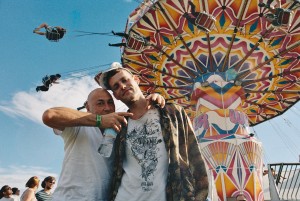 The next morning, Steffan drove the Darwin Deez four south to Bunbury to our final Groovin' the Moo. We drove past the dry brown green bush, landscapes a half a world away from our home that we had never seen before. Darwin plugged in his laptop to the radio and was DJing from the passenger seat. He put on that 90s song "How Bizarre" by OMC. Meanwhile, cars full of concertgoers buzzed by our windows, heading to the same destination. Many of the people in the other cars noticed Darwin. A few seconds later, their car would adjust its speed, either slowing down or speeding up in order to align itself with our van for a second look. On their second drive-by scan, all of the concertgoers would have their cameras and smartphones out, snapping photos and videos of Darwin sitting in our passenger seat. How bizarre, indeed.