Tonight, we our snug in a legendary band house/refuge/oasis in Manchester. I remember hearing about this place long ago, before I had ever toured Europe. I asked my friend Angela, who sings backups for Herman Dune, what it's like to tour overseas, and this was the first place that she described to me. I am curled up here in the clean and cozy basement, among a plethora of soft mattresses and numerous band posters. Lots of magnificent artists have passed through this house, some friends and some elusive objects of my admiration (No Age, Menomena, Mt. Eerie, Yeasayer, The Trachtenberg Family Slideshow Players, Sufjan Stevens, HEALTH, Liars, a Place to Bury Strangers…)
A lady named Bernie is the founder of this place, but she has made a permanent move to Vancouver, Canada (we stayed with her there, only a few weeks ago).
Darwin and I vegged out in front of my laptop for a bit, watching Bodyrox videos, Avril Lavigne, RAMS' Pocket Radio, Totally Enormous Extinct Dinosaurs, Kesha, Marina and the Diamonds, live Van Halen, Tracy Morgan comedy clips, and Wakey!Wakey! videos. Wakey!Wakey! is one of our peers from the old Sidewalk scene. We realized that he is in Manchester this very same night, across town, opening up for James Blunt.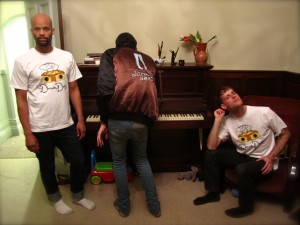 The whole band is giddy to be back together with our beloved friends/crew: Ben Wood (tour manager) and Seb Renaud (driver, sound engineer). While we were gone, Ben, a merchandise mastermind, created handmade, one-of-a-kind tour jackets. It's like we are playing that video game, Rock Band. We started at the open mics with shitty 15 watt amps. At some point we moved up to having free beer backstage, and now we've upgraded to tour jackets.
We have a slew of big, sold out, headlining shows filling up the next few weeks. Darwin declared that this tour shall be called "Living the Dream."