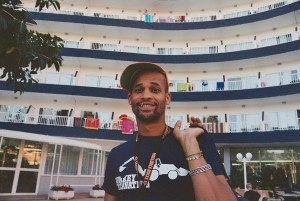 When we arrived at Mallorca Rocks Hotel for soundcheck, we were greeted by a sprawling tropical courtyard with palm trees and a crystal blue swimming pool surrounded by a neon pink railing. It was some surreal MTV Spring Break fare. I remember being in high school and watching broadcasts of Kid Rock and Limp Bizkit play setups like this.
Mallorca and Ibiza are two Spanish islands in the Mediterranean. There were not, however, so many fun opportunities for our band to flex our second language, because we had been imported there to play almost exclusively for British tourists on holiday. The hotel was dubiously surrounded by British pubs advertising "Proper English Breakfast", complete with football on the telly. It was loud party territory, like the European equivalent of Daytona Beach or Cancun.
Each of the two nights, we opened for The Vaccines and Zane Lowe. The Vaccines played this catchy chorus that went, "if you wanna come back, it's alright, it's alright, it's alright if you wanna come back." Darwin got really into that chorus, declaring that he gave it "a five out of five", and referenced it several times during our second set in Ibiza, substituting the Vaccines phrase for Darwin lyric after Darwin lyric.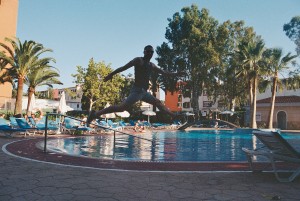 Around 3 am, we were in the heart of Mallorca's party district, camped out in front of some pub called Red Lion. An employee girl paced the sidewalk outside, a rose sticking out of her cleavage and her ass hanging out of her panties, beckoning people inside. Neon carnival rides towered into the sky. Strippers pitched lap dances to musclebound night clubbers. "This is a flesh fest," Darwin observed.
A redheaded chap from the concert staff sat down with us. "All you have to do," he drunkenly coached me, "is walk up to one of these girls and tell them 'I'm in a band.' I know it sounds sleazy, but it will work, trust me. I mean, look at me. A ginger like me. In England, I don't get much attention, but here, I have power. I can say 'You and five friends want to get into the concert for free?' Down here I can get blondes, man."