"Talya is so funny," Darwin extolled, kind of shaking his head in awe. Talya is the bassist / little sister of Caged Animals. "Talya came up with all the tour jokes: 'Chris Aiello, you're so mellow', 'Full Blown Orlando'…."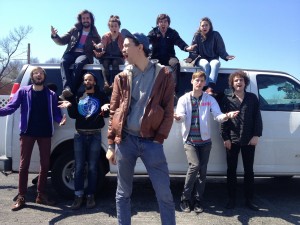 It was a bittersweet last meal for Darwin Deez and Caged Animals, sister bands, touring soulmates on this dear tour we had titled "The American Way."
We ate at Plato's Diner on the outskirts of Washington DC, a gleaming metallic UFO of a diner. American tours are inevitably crammed with yellow food, with omelettes, with buttered toast, with pancakes, and ours had been blessed accordingly.
Our two bands came up with a lot of lists during this late breakfast. Favorite shows, worst shows. Most embarrassing moments. We can't tell you who we named as worst opening bands, because then this blog will show up in those bands' Google Alerts and that won't be good for anybody. But we can tell you who were our favorite bands. One fave was Week of Wonders, in Seattle. They were this trio of energetic guys wearing all white, good guitar playing, exciting pop songs, minimal, tight, kind of a Vampire Weekend sort of sound, big personality and presence kinda like The Hives. Another favorite band was The Very Knees from Columbus, Ohio. They were this duo, one was this cool rocker dude and the other was a kinda goth punk transgender girl, and sometimes they would play guitar and bass, and sometimes they would just rock the mics with a backing track, and it was super funky and subversive and dancy and unique and uplifting and beautiful. I think The Very Knees was my personal favorite. They were like such a good first band that it was intimidating to follow. And our third favorite band was this big folk rock collective band with a stunning lead singer named Monica, and they were called Phox and they are from Madison, Wisconsin.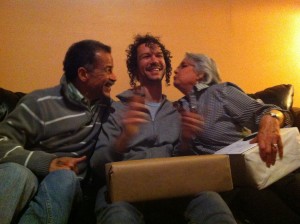 Washington DC had been a rad last show of tour for us. The crowd that comes and sees Deez in DC is one of the best in the world. They are always enthusiastic and supportive and fun and diverse and numerous. I love playing the Black Cat. I love their vegan friendly menu, and I love how they always hook us up with chips and salsa during sound check. I love their long, Lynchian, black-and-white checkered live room. It is a fun, wide stage to play.
At the stroke of midnight was Darwin's birthday, while we were on stage. Darwin's parents made the drive up from Chapel Hill with a chocolate tofu cake, Darwin's favorite homemade dessert. Caged Animals brought cake #2 on stage when we came out for the encore, and there were burning candles and the happy birthday song from the crowd. We did the Spring Dance and Bad Day and closed with 800 Human. Afterwards, as I was packing up my guitar and keyboard. the Black Cat staff brought an unprecedented second tray of chips and salsa just for me. It was my favorite show of tour.
Hey guys. It's Andrew. Sorry that I haven't been blogging. Sorry that I've been slacking HARD on the blog tip. But now I'm in Brooklyn and I'm gonna start from DC and go backwards and tell you a bunch about what the band has been up to so far this year. And then hopefully when we go to UK in a couple weeks, the blog ball will be rolling and I'll keep journaling like you know I should. Peace, love, truth, beauty, darkness, light.