Australia's too big to drive from show to show in any sort of prompt or efficient way. That being the case, all of the bands playing Groovin' the Moo are flown around on planes from one concert to the next. It's a pretty entertaining process. You wake up and go to the lobby and everyone is slightly shaggy or bearded or colorful, and you realize you're in Rock 'n Roll Hotel Lobby. Then you go to the airport and you eat your egg and cheese sandwich and you realize you're in Rock 'n Roll Airport Cafe, completely surrounded by musicians, DJs, roadies, bands. And off you go through Rock 'n Roll Security Scan, Rock 'n Roll Airplane, and even Rock 'n Roll Baggage Claim. I like seeing The Go! Team wandering around everywhere, on the plane, at the artist catering. I used to listen to them a lot a few years back. Those days, their band and any sort of musical success seemed so far away, so abstract. They were a sound from the stereo, a fancy YouTube video with a lot of hits. And suddenly for the next week or two, their in-person presence is practically inescapable.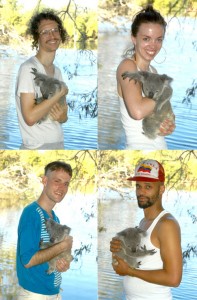 After we got done with our second Moo set, we had a little band powwow and were slammed with the realization that this afternoon was our only chance on this tour to hug koalas. So we scraped together and executed a spontaneous drive over to Billabong Sanctuary, about 15 minutes from the festival site, and before we knew it, all four of us were cradling the number one cutest animal on planet earth. It cost $35 per person for entry and photo, but cavorting with a koala is priceless. We saw a wombat. Held a python. A crocodile, dingoes, and as icing on the cake, corralled with six wallabies. One of them had a baby roo in their pouch. The small creature's lower feet, dry and long and pointy and brown like petrified branches, penetrated out of the furry pouch. Occasionally the pint-sized walla would peep out its head, but then immediately retreat back into the folds of its mum. Australian destiny fulfilled.
During our zoo excusion, I'd left my electric razor charging in House of Pain's backstage tent-room (immediately next door to our backstage tent-room. For some reason, ours did not come equipped with a socket). House of Pain does not seem to spend much time backstage, so I figured they wouldn't mind. Maybe they wouldn't even notice. Unfortunately, when we returned from the zoo, I found that my razor (along with my Euro/Australia/US power adapter) had vanished from its discrete charging position. House of Pain was nowhere to be found. What to do?! How would I finish shaving the other side of my head? (I'd been trapped in a lopsided hairstyle since noon.) Would I have to buy an ultraexpensive Australian replacement? Would I have to wait until next weekend to run into House of Pain, and if so, what were the chances that they would keep custody of my razor all week? This was the minor distress that I carried back with me to the hotel. I went to the backyard to check out the pool, and lo and behold, there was Everlast and House Of Pain, chilling and talking at the pool's edge. Sure enough, they had my razor. I went upstairs and had Greg properly shave and trim my weird new haircut while Darwin watched one of the Harry Potter movies on the hotel TV.