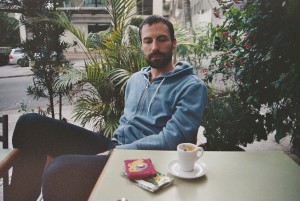 "The promoters want to take us out for dinner and drinks," Stephen, our manager, told our band as we milled about in the basement backstage of Beco, doing a bit of wifi catch-up.
We took a look around at the sizable spread of vegetables and sandwiches and beers. "I think I'd rather just save the money and make this my dinner," I said. The rest of the band shared the sentiment, but we agreed that it would probably look rude to turn down the invitation. Who knew how excited the promoters might be to spend some quality time with us and show us around Sao Paulo?
We piled in a shuttle van and inched along through the heavy Brazilian traffic. Sao Paulo is an endless expanse of city punctuated by clusters of concrete high-rises. After we took our seats at the restaurant, the promoters caught us off guard. "We'll be back to pick you up in one hour," they told us before promptly departing in the van, leaving us to ourselves. It turned out, we had accommodated their desire to spend time with us, which in fact, did not exist, and they had accommodated our desire to eat at a restaurant, which in fact, did not exist. This is what happens when you go play Brazil without knowing a lick of Portuguese.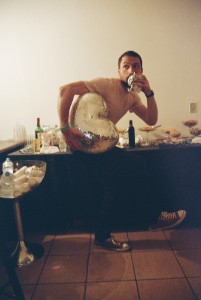 Our first Brazilian show was an odd one. The performance was being filmed for TV, and the venue was filled with an invites-only studio audience. Everyone was wearing black, looking fancier and sleeker and older than our usual crowd. We assumed it was the entertainment industry. The band made the glad discovery that a few super fans had weaseled their way in, despite the exclusivity. One particularly wonderful guy, Andrea, brought us a tote bag full of Brazilian indie rock CDs. When it came to Darwin Deez, he was exceptionally astute. He knew about our Earth Wind and Fire dance. He knew that when I had played bass, it was a Rickenbacker. Whoa!
Another amusing element of the show was that it was the gayest Darwin Deez had ever played. I mean this strictly in the sexual orientation sense of the word. As I wandered amid the after party, I was repeatedly approached by extremely friendly fellas. "Do you like girls or boys?" one of them inquired quite directly. Greg later reported back to me that four different people had similarly questioned him about what team I bat for. Perhaps the genre of heterosexual femininity that I am comfortable with simply doesn't exist in this country. But don't get me wrong. I was flattered.