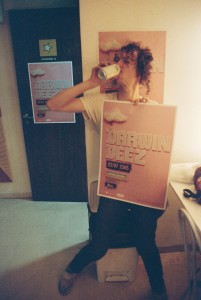 I was not prepared for the sight that awaited us when we drove in from the airport to Rio de Janeiro. There is no contest. This is the most beautiful city in the world. The rickety multicolored pastel favelas crowding the hillsides. Gritty concrete mystery majesty stacked and sprawling. Monstrous rusty oil rigs and creaking wooden pirate ships at the docks. Mammoth rocky tropical cliffs of harrowing vertical drops yawning overhead and all around. Pristine modern high-rise downtown. Miles and miles of crescent beaches crashing into the foamy ocean. It's the best of Brooklyn, Guatemala, San Francisco, and Jurassic Park rolled into one urban paradise. Not since discovering my own city of New York have I been so smitten.
While I was pressed against our van window like one of those old Garfield car ornaments, Darwin had his baseball cap pulled down over his eyes, curled up and snoozing. He's a funny one when it comes to all this world travel. Every now and then he finds something he's excited to explore, but more often than not, Darwin prefers the comforts of the familiar, of YouTube and Star Trek, of catching some sleep. After checking into the Princess Copacabana, it was time to find dinner. 'WokSoba?" Darwin suggested, pointing to the Asian restaurant on the corner. The rest of us dragged him along to find something properly Brazilian, like any sane tourist would do. "I'm afraid of foreign food," Darwin explained. "Chinese is foreign," our manager Stephen shot back. "I'm afraid of the unknown…" mumbled Darwin, unenthusiastically following us toward the beach.
After a few hours of napping, Miles rang my hotel room at midnight. "The promoter is taking us out on the town in 5 minutes," he reported. "You in?" I had been partying hard since we arrived in South America, and I thought it might be better to not get sick. I'd wake up early tomorrow and see some city life during the daytime rather than another night of drinks and dancing at the nightclubs (as dear as those nights are to my heart). "Nah, I think I'm going to do the sensible thing, for once. Have fun." I hung up and lay in bed, thinking for a minute. Then I scrambled to punch Miles's room number. "Can you guys wait 10 minutes? I'll be right down!"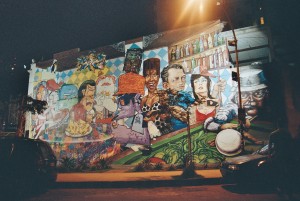 Thank God for that last-minute decision. The night that ensued was worth a dozen tour colds and 100 missed hours of sleep.
We exited our cabs at Arcos de Lapa, a plaza which was already alive with the boom of street drums and the fray of a party crowd. A stunning double tiered white aqueduct made of glorious stone arches crowned the glowing scene. Our promoter and leader for the night, Alex, was a magical guy, full of energy and goodwill and street smarts. He was a man with a musical history, as well, telling us a story of how, the week after Nevermind was released in 1991, he saw Nirvana perform in Seattle with Mudhoney and Bikini Kill as the opening acts. Alex guided our group through the back door of Circo Voador, the venue we were scheduled to play the next day. It was a spectacular place, an outdoor amphitheater lined with a patio and drink counters and tables. A Brazilian folk act was on stage that night, their instrumentation: a ukulele, an accordion, a triangle, and a drum.
Another member of our group that night in Rio was Georgi, a veteran party girl and world wanderer from Australia whose trail of adventures led her from Thailand to Los Angeles to her current couch surfing stint at Alex's. She treated our group to a round of Cachaca lime drinks, warning us that if we had more than three, we would fall over and not get up for the rest of the night.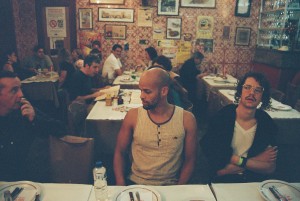 I learned some interesting things about Brazilian relationships through my conversations that night. "We are roommates, but that concept doesn't really exist here," Georgi explained about her nontraditional living situation with Alex. "In Brazil, people live with their parents until they get married, and then they move in with their spouse."
Another girl in our group, Matti, told me, "People in Brazil don't really have a concept of being faithful. People get married and then they cheat and think nothing of it. If you are in a relationship, you are with that person 24/7. Because during whatever little time a couple spends apart, either he is cheating on her or she is cheating on him."
Nearby the venue, a massive modern Inca-looking Temple towered above its surroundings, seemingly waiting for a final human sacrifice before unleashing the alien apocalypse. Lit from the ground, the colors of the temple shifted from green to purple to blue. Apparently it is a Catholic church that has services on Sundays. Only in Rio.
To be continued…