Last night was a special night for me, because I finally got to share a stage with Mash Deez, with Michelle Dorrance. It has been almost two years since she first replaced me on bass, and eight months since I tagged back in. Now, thanks to my newly acquired guitar abilities, we are able to join forces. I have anticipated spending quality time with Mash for a good while now. Up 'til this week, we've said hi at shows, but it's always been brief. Knowing how she and Darwin are lifelong best buds, I've been confident that I'd find her to be a good vibes captivating soul. And it's true.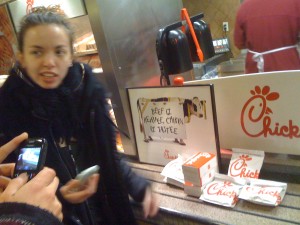 We played E&L Auditorium at NYU, along the south side of Washington Square park, across from its iconic arch. Michelle was stoked about the fact that NYU contains a Chick-fil-A, a fried chicken fast food chain of the South that is rarely found north of Maryland. She raved about their trademark breading, fried to perfection in peanut oil, that people tend to either love or hate. I dropped my usual dietary restrictions and tried a bite for myself. "My favorite kind of vegetarian," hailed Darwin.
And so, down in the cafeteria-esque depths of NYU, Michelle, Greg, Darwin, and I shared the first of many band meals together, as this incarnation of the band will be the one to tour Australia together in four weeks. We filled Michelle in on Seb's (our European driver) new nickname: "Le Gran Formage." We told her Miles's new nickname: "Curious Crawford." We were joined by Michelle's girlfriend, Mishay (the female lead of Darwin's "DNA" video). Darwin teased, "Michelle, when are you going to ask her to marry you?" "Mishay, if she asked you to marry her, would you say yes?"
The opening band of the night was called Emefe (pronounced "MFA"), an 11 piece funk jazz instrumental band composed of fresh faced NYU boys. Being our sort of indie act, we don't often get to play with bands with a full horn section. It was a treat. All the performers were lightning speed virtuosos, so much better on their instruments than us. Sometimes it's comical how drastic the gap in technical skill is between us and the bands we play with. But we have our hooks, we have our dance breaks, we have our minimalistic alternative bedroom pop, we have our smiles and joy and enthusiasm on our side, and that stuff goes a long way.
Afterwards, Darwin, Michelle, Mishay, and I boogied to !!!. We were all impressed by Nick, their frontman. He's an incredible entertainer, gushing with positive energy and a beautiful sense of humor. At one point, their guitarist broke a string. I dashed backstage and lent him mine. "Pinky!" Darwin and I cheered from the audience. "From this day forth," I shouted in Darwin's ear, "my guitar will be known as 'Pinky.'" It's funny, when I bought that guitar in December, that powder pink Fender Squire, I bought it because it was the cheapest model in Guitar Center (just under $150 after sales tax). The salesman literally snubbed it as "firewood." Even at this point, that humble little guy has had quite a remarkable musical trajectory. We spoke with Nick Chk Chk Chk backstage after their set. He was funny and sweet. He tried to convince Darwin and Michelle to start having tap dance battles onstage. We said our farewells and drove off into the rainy New York night, the car radio satisfying Darwin's John Mayer craving all the way across the Williamsburg Bridge.
On the drive home, Mishay revealed to us that she recently performed as one of Kanye West's dancers when he was on SNL. There were some funny details to her anecdote, such as how Kanye stopped rehearsal so that he could play tracks from his new album for the 20 or so dancers (professionals being paid by the hour), simply because he was so excited about the new recordings and wanted to share them. The pleasant surprise about her story was that she actually described Kanye as (not a douche bag but) "really nice", as someone who interacted a lot with the dancers during rehearsal, someone who feels passionately about executing his artistic vision. I went home and had myself a good time watching the SNL performances on YouTube before crawling into bed.
Celebrity is interesting. I like to see where the illusion meets the humanness. I like to see the surprisingly small individual behind the mystique of the grandiose accomplishment, the larger-than-life event, the elaborate concert performance or the dazzling music video. I think it's fun.