i exited the car and approached Darwin's silhouette in the headlights. San Francisco bound, our car had broken down on the shoulder of Interstate 5 south. Mount Shasta had gotten the best of us and our rickety ride. "this is gonna be one for the memory books," were Darwin's first words to me. We stood beneath a planetarium of California stars. "Are we gonna remember this night for the rest of our lives?" Darwin wondered out loud. "Yes," I said.
Minutes before the surprise car trouble, we had received some spectacular news via Samantha's Facebook status update: We had sold out the Bowery Ballroom back in New York City.
Waiting for the tow truck, we wandered up the slope of the mountainside. "This is how change happens. We've reached a tipping point," Darwin continued, referring to the book we had discussed while driving out of New York (see past blog). "Betsy's dead (that's the name of our car), Cole's leaving the band, the Bowery…it's like climate change…factors increase exponentially…change becomes explosive. In the theory of evolution, the term for this is 'punctuated equilibrium.' That was the title of one of my old drum and bass tracks…"
Giant pinecones, the size of your head, were scattered up and down the mountain. I stashed one in the van as a souvenir .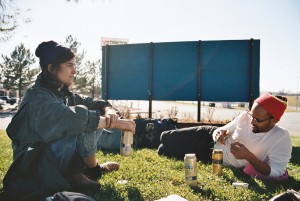 A tow truck wheeled our van, our trailer with the DJ Jeff sticker, and our four weary bodies through the night to Redding, a sleepy blue collar blip on the map. We dropped off our van at CARS (California Auto Repair and Smog), and retreated to a Motel 6.
This afternoon, while waiting for the car to be fixed, Greg and Cole and I bought 24 oz cans and laid down in the lawn of a strip mall, partially concealing ourselves from the traffic behind the road sign. It was sunny. Spring in the air. Like kids skipping school.
Now we're at a delectable American mom and pop sandwich shop called Dill's Deli. Moments ago, Darwin delivered the bad news that our van will not be fixed for three days. To be continued…