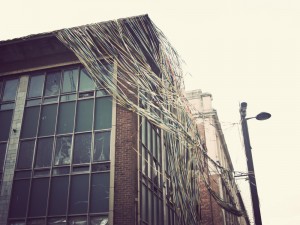 Yesterday, I kept asking strangers how to get to a certain electronics store in Liverpool.  I asked four different pedestrians, and each gave me a different set of very simple directions ("Go down the street we're on, turn left. It's 2 minutes away"). So I followed a baffling 25 minute spiral of contradicting left and right turns, with no better option than to discount the previous set of instructions as defective and trust the new ones.  Finally finding the shop and equipping myself with the desired gadget, I shuffled my way back to the club, but realized I couldn't remember the name or location of it (a symptom of prolonged touring, I suspect). I found a venue that seemed correct, but all its entrances were sealed for the afternoon, and I could not find a side entrance. I circled the brown brick building, pushing locked doors, peeking down alleyways. The grey England sky continued to dim as evening ensued. The wind grew harsher, and I started imagining myself trying to explain to my friend Jason back in Brooklyn how, on my day in Liverpool, the main thing (only thing) I got done (other than the van ride, soundchecking, and playing the show) was purchasing a US/UK electricity adaptor.
This is the strange alter reality of tour. If one hypothetically considers the structure of the tour day, it appears there are gobs of time for fun, for personal errands, for sightseeing, for reading, for exercise… But in execution, tour has a fascinating and flabbergasting propensity for unproductivity.
So Darwin Deez played Club Mojo. It was an intense night. The backstage was a cramped little corner, and the entire building seemed hopelessly incapable of buffering and absorbing sound. Whether a band was playing or the in-between music was cued, we were helplessly immersed for hours in a swirling vortex of deafening megabass rock music.
There was a club night after the bands. I looked around at all the dancing, drinking Saturday night party people. Everyone was stoked to live it up, escape from the weekly grind, hoot and holler and cheer and laugh and chant and shake. Clamoring to get lost in the dim lights and the pounding sounds and the intoxication of alcohol. I know the feeling well, but I couldn't dive in that night. The strange thing is, our band is living over half of each day in these clubs. This place that, for most, is a surreal refuge, an outpost for a binge, is our most familiar environment. This band life does funny things with your head, and with your concept of a fun party night. Welcome to our upside down tour world.